The mind-blowing new mystery novel that's a Trojan horse to explore the pain of colonization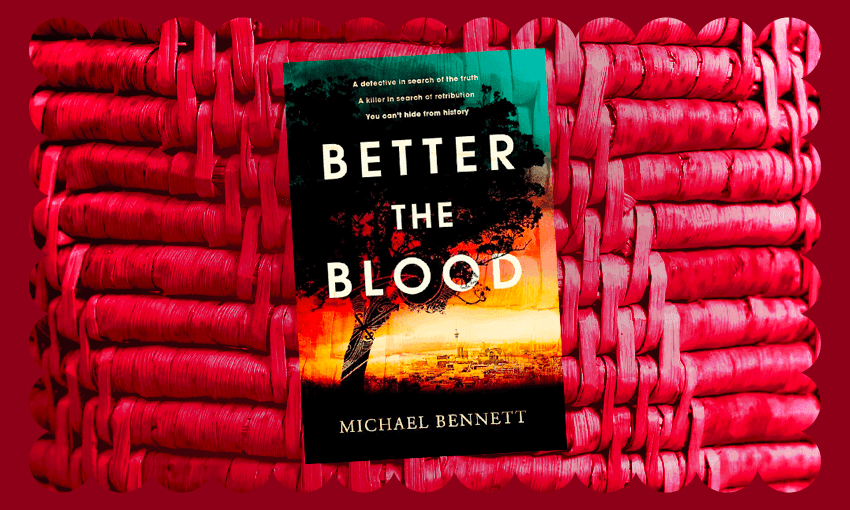 Michael Bennett's first crime novel, Better the Blood, is set in Tāmaki Makaurau, with Maori in the lead roles and the trauma of colonization viscerally close to the surface. Here, Bennett, best known as a screenwriter and director, tells the story of his first book.
On a small kawakawa bush outside a dairy in Kawerau, a butterfly flaps its wings. The wind moved by the wings of the butterfly swirls; it joins other gusts of wind; they are amplified, multiplied, channeled, whirled. Three weeks later, the delicate air movement of those flapping little butterfly wings turns into a freak rainstorm that floods a playground in front of a noodle shop in downtown Seoul, Korea .
Chaos theory has brought me as much comfort in my life as any of the religious doctrines that I deeply admire: Buddhism, Islam, Hinduism, Christianity. Chaos Theory tells me that only in retrospect can you look at the random rainstorm that hits downtown Seoul and trace a strange, twisting path to those butterfly wings in Kawerau. The path is there. The seemingly random swirls and swirls actually have a wondrous and mysterious pattern. You may not realize it now. But there are straight lines of meaning in the chaos.
My father, a decorated Spitfire pilot in World War II, gave me a lifelong passion for fighting the big fights. My mother, a brilliant writer who met dad while writing her thesis on her father (my grandfather was the first Maori bishop of Aotearoa), gave me a love of words and an admiration for their power . Thanks to these gifts, I decided decades ago to pursue a weird and scary life without a map: the life of a writer.
One night in March 2015 was for me the equivalent of that thunderstorm in the park across from the noodle shop. A moment when a pattern emerged from apparent chance. In the backyard of our house, Teina Pora has a beer or three. I had been writing and directing films about Teina's case for several years; my family was now part of his support network. That night, a group of us who had fought for Teina are reunited with Teina and her whānau, watching the Privy Council verdict broadcast live from London.
A few months earlier, I had been at the Privy Council hearing, delighted to hear the four (very) British law lords and Dame Sian Elias of New Zealand indeed say that Teina should never have been arrested , that he should never have been brought to justice. , he certainly should never have been convicted. Teina couldn't make it to London for his hearing – because he was a convicted murderer – so I texted him from the courtroom, trying not to give him hope, but wanting to reassure him . "I think that looks pretty good bro."
Fast forward a few months to that March night in our garden, and when the verdict is in. I'm a little drunk, I'm ecstatically happy. The justice system has worked so long and so hard to repeatedly and brutally deceive this innocent young Maori. It was, finally, a first step towards repairing the horrible mess. I watch my partner Jane and my children kiss Teina. Teina and me hongi. A man who had become a friend and part of our whānau; a man who had just been declared innocent after 21 years behind bars.
I could never in a million years plan a life that would lead me to this night. I feel blessed that the whirlwinds and whirlwinds of my career have brought me to this hongi. This moment will always make me feel like chaos theory is right.
Better The Blood is a crime thriller, and it's about to go on sale. A series of seemingly unrelated murders are linked when brilliant Maori police officer Hana Westerman realizes that each victim is a descendant of different members of a British Army troop who wrongfully and brutally executed a Maori leader during the colonization of the New Zealand. There were six members of the troupe. Two descendants died. Four to go.
I wrote this book to entertain the reader. I to like crime thrillers. It's my favorite kind. I love books like No Country For Old Men and Blacktop Wasteland and Winter Counts, screen stories like True Detective, Seven, Broadchurch, Squid Game, Sherwood. As a true fan, I want to deliver the things that excite me with these incredible thrillers: telling high-adrenaline stories, keeping the reader turning pages, keeping them up at night until they reach the end point of the last chapter.
But if you're writing, entertainment is only part of it. You write because you have something to say, something that burns inside, something that feels important to you. By creating Better The Blood, I want to offer something more between the lines – to talk about some things that are important to me, about where we are, 200 years after colonization. For me, that's as important a part of the reason for writing as giving the reader a gripping, thrilling and visceral story.
This novel has been described by Ngaio Marsh Awards founder Craig Sisterson as "the first crime thriller about a Maori detective, written by a Maori author", and if it's true, I'm touched. Hana Westerman is based on many strong and extraordinary women in my world; aunts, my partner, my sisters, my daughters, my mother – Mom's maiden name is Westerman.
Hana, on one level, faces some very relevant challenges. She's a woman in a male-dominated career, a Maori in a mostly non-Maori police hierarchy, she fights to be the best mother she can be to her willful and erratic teenage daughter, her ex was brought up at- above her and is now her boss. But she also faces a very unique and terrifying challenge: a race against time to stop a killer before he kills again. I wanted this quest to be destabilizing, complex, moving for the cop and for the reader.
Hana discovers that the killer is not a psychopath; on the contrary, each time they kill, it tears them apart. Ultimately, the hunter and the hunted are pulled deeper and deeper into each other's orbits – each is modified and affected by the other. What may seem black on white, good versus bad, becomes more complex. At some point in the DSS novel, Hana Westerman (and hopefully, the reader) comes to understand why the killer does what he does, comes to understand that the things the killer is talking about are real and important, even knowing the killer solutions are very very bad. It was unsettling and confronting to write this chase, but perhaps it's when things are most uncomfortable that you get closer to the hard truths.
One of the joys of writing this book is that it was a bit of a family story. I developed the characters and the narrative with my partner Jane Holland. My daughter Māhina (painter and visual artist) created the Maori design used on the cover and throughout the book, as well as the covers of the Dutch and American editions. My younger daughter Matariki (poet and writer/director) wrote both the song "BROWN AND SCREAMING" which is featured in the book and the poem quoted in the addendum.
We were translated into nine languages ​​before being released for sale in a bookstore anywhere, and I have to pinch myself even writing this sentence. I didn't anticipate any of this when I decided to write a scary book, but it's exciting that this is a time when the voices of Indigenous storytellers are heard, and I'm humbled. You flap your wings, and who knows where the whirlwinds and whirlwinds will end.
Better the Blood is being adapted into a six-part drama series via Piki Films, with funding from the New Zealand Film Commission.
Better the Blood by Michael Bennett (Simon & Schuster, $35) is available from Unity Books Auckland and Wellington.