Kim Anderson's new novel 'A Promise Broken' is out, a historical romance about adjusting to new surroundings and finding love in unexpected places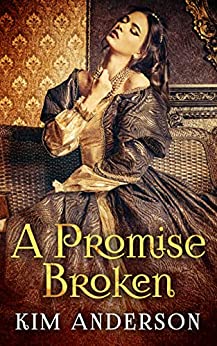 Kim Anderson's "A Promise Broken" has been released worldwide. This 410-page period piece is set in England and follows Alice as she returns to her noble origins, facing the prospect of an arranged marriage and a culture she knows nothing about. After being raised as a commoner with her sister, Alice discovers the true nature of her birth when her mother falls ill. The sisters are sent to Lord Hastings, a wealthy duke and the father they left behind as an infant.
Discovering the truth about her father, the reasons she was taken from him, and the marriage he arranged for her, Alice's world is thrown into turmoil. In an unfamiliar environment, Alice must find her way among new people, new demands, and resist the controlling forces around her. When she least expects it, a budding love gives a glimmer of hope.
A broken promise (ISBN: 9798986295398) can be purchased from retailers worldwide, including Barnes and Noble and Amazon. The paperback retails for $23.99. Bulk orders are available through Ingram.
From the back cover:
Alice and her sister were taken in by their mother many years ago and raised in a quaint little cottage as commoners. Their mother has now fallen ill and has decided it is in the girls' interest to be returned to their father, hoping that Lord Hastings will correct the mistake he has made. Alice discovers that her father is one of the richest dukes in England. It wasn't long before Alice discovered why her mother had driven her and her sister away from the life they were born into. A contract was created by her father and his best friend, a contract for her to marry a man she doesn't even know. Now Alice's fate is in the hands of a father she doesn't know and a man who already thinks she belongs to him.
About the Author:
Kim is a mother of three, with two beautiful granddaughters. She's had several different careers in her life, such as fixing jets, driving trucks, and being a cosmetologist. She's been through a lot of ups and a lot of downs. The one thing she loved to do the most in life was write. Seems like it's the only thing she likes no matter what
About NH Seacoast Press Book Publisher:
NH Seacoast Press Book Publisher provides authors with traditional quality book publishing services while allowing authors to retain publishing rights and 100% of royalties. Seacoast Press' wide variety of publishing services include book design; editorial; impression; Distribution; advertising; and marketing. Seacoast Press books are available at retailers and booksellers worldwide. All Seacoast Press books can be purchased wholesale through Ingram.
To learn more about Seacoast Press, NH's premier book publisher, visit http://www.seacoastpress.com/.
Media Contact
Company Name: SeacoastPress.com
Contact person: Jen McNabney
E-mail: Send an email
Call: 603-546-2812
Address:1 New Hampshire Avenue Suite 125
Town: Portsmouth
State: New Hampshire
Country: United States
Website: https://www.seacoastpress.com/