Backstory: Remember Me, a novel about dementia and choosing a good death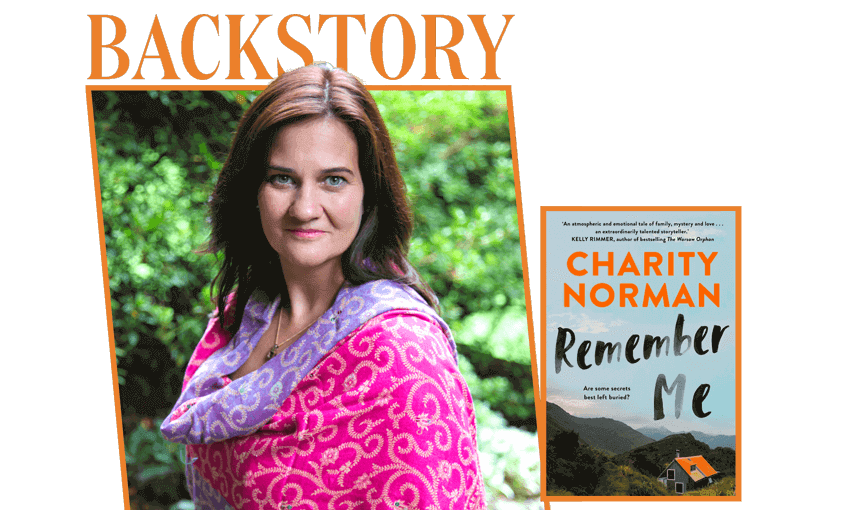 Charity Norman chats with book editor Catherine Woulfe about the family history behind her latest novel.

If you love someone with dementia, you know that most dementia novels use it as a plot point, a layer of slapstick, a free get out of jail card. It's infuriating. Boring. Insulting.
You also learn to recognize when a writer has been through fire themselves.
In the opening pages of Charity Norman's new novel, Remember Me, main character Emily arrives at the family home and greets her father, recently diagnosed with Alzheimer's disease.
"Hello," Dad said politely. "Can I help?"
Her smile was too soft, too empty, too anxious [… ]
"Hello dad!" I laughed to cover the horror. "It's me. Emily."
I counted to three before he turned back to himself. The lights came on, and there he was.
"Emilie! Of course it is. Sorry…the sun in my eyes, I couldn't quite see…didn't recognize your car. Engaged, right? No need to that, you can use mine. Well, wonderful, you're here.
The father and the daughter act as if nothing had happened. They head inside and he tries to make tea, opening and closing the same cupboard three times. She quietly takes over. And from there, I knew this book was not a shit book. It's actually, I think, the most lucid and compassionate novel I've read about dementia – and about caregiving, an aspect of the disease that is rarely mentioned.
Like all of Norman's books, Remember Me is also compulsive reading; it has layers and layers of history, all rolled into one. Emily arrives from the UK to care for Felix, a former small-town GP, ​​at the family farm at the foot of the Ruahines. Felix is ​​keeping a precious secret, and a big part of the book's drive is for Emily to find out exactly what it's all about. Entangled in secrecy are the neighbours, a family affected by Huntington's disease – the father died after a long decline, leaving two adult children. The girl has been missing in the bush, presumed dead, for decades. The mother cared for her husband through Huntington and now devotes much of her time and energy to caring for Emily's father.
The novel is also extraordinarily moving in its exploration of the notion of a good death. I cried and cried at the end, then asked for an interview. There must be a real story behind this, I say. You don't write a book like this without a story.
So one Sunday morning, Norman drives from her Central Hawke's Bay home to a place under a phone tower where she can get decent reception, and she tells me the story of her mother, Beryl. Beryl, a terrific scholar and linguist and mother of seven, died of Alzheimer's disease in 2016. All sorts of moments in the book reflect the family's real-life experience.
Let's start with this scene at the door. A parent who does not recognize his child.
"There was a time when I came to her front door from New Zealand, having just arrived, and for a few moments there she didn't know who I was," Norman says. "She said 'Oh hello, can I help you?' And I said 'Mom!' And when I walked into the light, she said, "Oh sorry, that was the light behind you," and she covered it. She was brilliant to cover it. And dad covered it.
It is suggested in the book that Felix's dementia may stem from his insomnia. Norman always wondered if this was a contributing factor for his mother. "My mother stopped sleeping after my brother was killed in a helicopter crash in 1991. [And my sister], a few days before his 27th birthday, had a catastrophic moped accident and lost his intellect and has never really had a normal life since. I can't help suspecting that the depression these caused and the lack of sleep contributed to it.
In the book, Emily finds old diaries of her father. In them, she can trace his decline and see that he was also hyper aware of it. It's a tough time for Emily and the reader, and a crucial catalyst in the narrative – and it happened to Norman, too.
"Many of the things I wrote in that Felix journal were exactly what I found [while cleaning out my mother's room]. It was amazing, there was a pile of them like there was in Felix's office, she had put them all together in a corner of the drawer and there was everything in there, you could kind of trace her awareness increasing its erasure.
"You started noticing that her handwriting wasn't quite what it used to be, but also that she was starting to do quirky things like writing things in all caps and underlining them…I asked Felix to do that.
"She had written who she was and what her job had been, how she was a teacher and how she was born here and lived here. "I was playing the violin." That sort of thing. Remembering who she was. And she wrote the names of her parents.
"On the back she had written the names of all her children, her sister and a girl called Yani who was one of the children of Kindertransport, a Jewish girl who my mother's family took care of during the war . She had written her name, Yani, and she underlined it and she wrote "never forget" next to her name. Which is extraordinary and fascinating.
Felix does all that too, except the person he tries hard not to forget is Leah, the girl next door, the one who disappeared. Finding out why becomes Emily's big distraction.
Despite all the similarities, I'm struck, say, by the fact that Norman gives Emily and Felix a much happier story than his. She says her mother neglected to clean herself and became violent, unmanageable, a "Mrs. Rochester"; she was adamant that Felix would keep his dignity. His own mother died as Norman rushed to be with her – she got the call in the Hong Kong airport transit lounge. Emily, on the other hand, comes home and spends a meaningful five or six months with her father. They often have coffee together in the morning. They do Sudoku, they talk. Félix tells old family stories. Between the moments of emptiness and confusion, there is warmth, clarity and great love. Emily: "Often we would sit in pleasant silence, watching the shadows of the clouds creeping across the landscape. Precious hours. Despite the sadness and strangeness of my father's disintegration, I felt like something was mending inside me.
After their long and mostly lovely goodbye, Norman also gives closure to Emily — and Felix. Honestly, as far as a relative's death from dementia goes, that's pretty much perfect.
Norman: "I suppose a psychologist would suggest I was doing this because I felt I hadn't had this myself. And I just think there's something in there? And maybe… maybe there is.
At the end of our conversation I end in tears, thanking her for her book. Later, she sends a message to say she's been thinking it over, and there's no "maybe" about the gift she gave her main characters. "You were right…I hadn't quite seen this in myself until I spoke to you." I gave Felix and Emily something my mom (and your dad) and millions of others never had.
Remember Me, by Charity Norman (Allen & Unwin, $32.99) is available from Unity Books Auckland and Wellington.
Does your book have a great story? Doesn't have to be a novel, or fiction, or even an adult book – the backstory is the thing. Contact us: catherinewoulfe@thespinoff.co.nz