A new approach paves the way for cotton wholesale to Turkey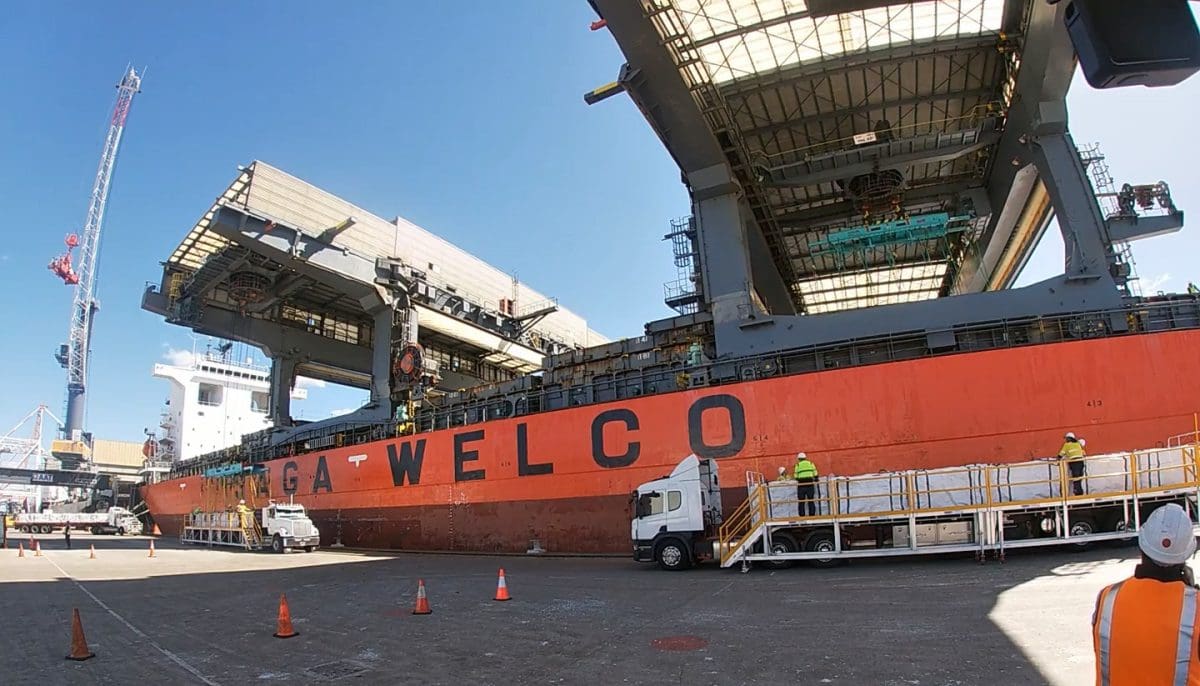 A UNIQUE shipment of Australian cotton is on its way to Turkey aboard the Saga Odyssey, the latest iteration of exporter ingenuity in a challenging environment.
Carrying 108,000 bales in the holds and another 22,000 bales in containers on deck, the LDC cargo left the Port of Brisbane on August 20.
It is believed to be the largest bulk cotton cargo ever shipped from Australia.
The break-bulk revisited
Prior to the development of container trade in the 1980s, general cargo was commonly used to transport grain, wool, and grain.
A fleet of ships equipped with double rolling gantries and box-shaped hatches now brings increased efficiency to this mode of transport, which meets demand from sectors beyond its traditional forestry and metallurgical base.
Since COVID impacted global supply chains in 2020, container trade has been severely impacted by expensive and unreliable freight services to just about every destination outside of North Asia and Southeast, as well as the limited availability of containers to pack.
This means that those who export products like cotton, which have until now been shipped exclusively in containers, have found a new way to get their products to market.
LDC is a major global cotton trader, Australian cotton ginner and merchant.
He sourced the cotton now aboard the Saga Odyssey from growing areas stretching from central Queensland to the Namoi Valley in New South Wales.
The bales were accumulated in the company's warehouse on the Fisherman's Islands in the Port of Brisbane, where bags going into the hold were each filled with four bales.
Trucks then transported the bales to the nearby AAT terminal.
LDC is one of many companies planning to do more general cargo in the near future, and Australian rice exporter SunRice also exported general cargo from the Port of Melbourne this year.
Call outside Asia
For Australian exporters, South Asia, the Mediterranean and the Middle East are the most problematic for containers, and trade sources around the world have said any container route not serving China is difficult.
Sources in the pulses and grains trade as well as cotton say ports in eastern Australia continue to experience congestion and container availability issues.
"Anecdotal evidence suggests that the rate of empty containers exported from Australia continues to increase," a trade source said.
"The recycling of container movement to high-demand, high-end freight routes from China to North America and Europe is driving potential structural changes in the movement and availability of containers from Australia.
"The shift in bilateral trade relations with China is driving Australia to seek alternative markets.
"It is critically important that Australian agribusiness generally continues to seek innovative solutions to supply freight to a more diverse customer base."
Massive rise in Pakistan and California
Pakistan is Australia's largest market for containerized chickpeas and very occasionally accepts bulk cargo.
Trade sources say it is already ready to take at least one bulk cargo or partial cargo out of CQ when the new crop comes online.
Australian cottonseed is also a predominantly containerized product, with Asia and California generally being the largest markets.
Shipping rods indicate that a shipment of bulk cottonseed is due to be loaded in Brisbane next month, with another to follow in October, both bound for California.
Australian pulse exports have seen a seismic shift towards bulk from containers and are typically only 30-50% of the container volume they did pre-COVID.
The change is reflected in increased bulk shipments or outbreaks of faba beans, field peas, lentils and lupins.
Trade sources claim that it is not only Australia that is shifting to bulk transport, with coffee, pulp and rice from other origins also switching to bulk transport in order to avoid the market for containers.
Grain Central: Get our free news straight to your inbox – Click here